All of the staff here at the practice are excited to meet you and your four-legged family!  Meet the team below;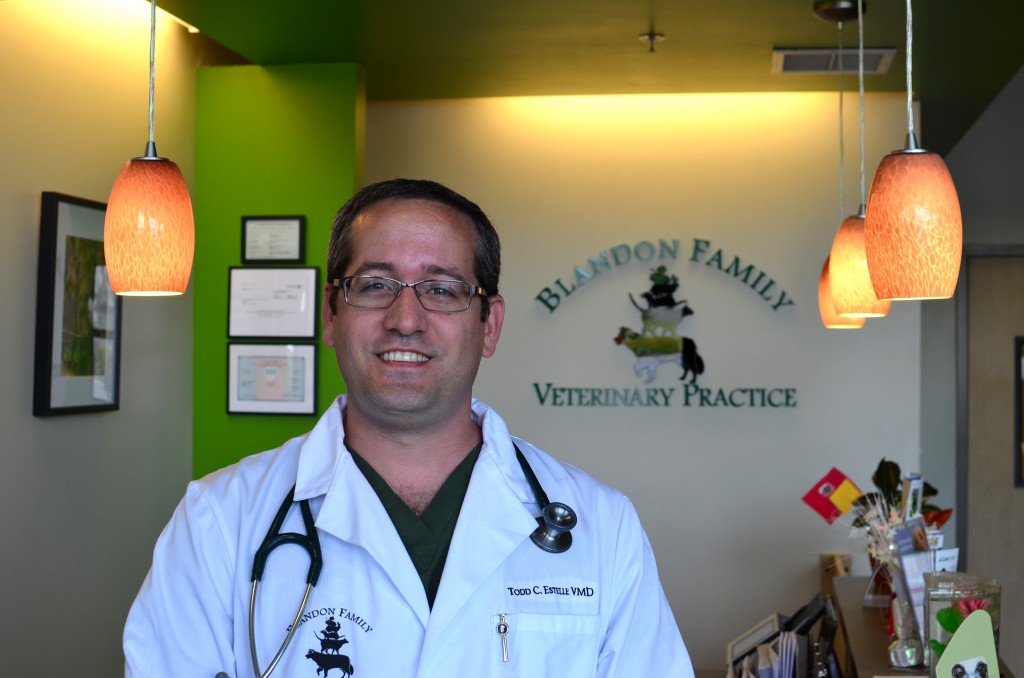 Todd C. Estelle VMD
Hello! My name is Todd C. Estelle VMD. I am the new vet in town!
Our hospital is a full service general practice, able to provide most routine pet wellness care, vaccinations, urgent care/hospitalization, and a wealth of surgical procedures. I practice on most common pets, including: dogs, cats, ferrets, rabbits, guinea pigs, mice, rats, hamsters, and some reptiles.
I'm a 2002 graduate of the University of Pennsylvania School of Veterinary Medicine and have lived in and practiced in the Berks county region for the past 11 years.  One of my utmost goals for the hospital is to be everything you expect and want from your own personal family physician, and to exceed that expectation! I've worked in many veterinary facilities over the years, and have heard from clients all over saying that they're dissatisfied with larger veterinary groups and the impersonal feel they may have. People crave and want a smaller family-like feel to their veterinarian's office, where they and their pets are known by the doctor and staff, and where they will see the same doctor when they come. I've chosen intentionally to keep things small and simple to do exactly that, and to provide you with that personal family practice atmosphere! What drew me into veterinary medicine, and my favorite part of it is the bond you and I form over the years as together we care for your pets.
So, come join us at Blandon Family Veterinary Practice! We can't wait to meet you!
________________________________________________________________________________________________________
Nicole Matlack, CVT, Technician
Hi, everyone! My name is Nicole Matlack, and I am happy to say that I have joined the team at Blandon Family Veterinary Practice as the veterinary technician! I always have felt a special connection with animals and knew from a young age that I wanted to work with them when I was older. I attended Lehigh Carbon Community College and graduated with an Associate's Degree in Veterinary Technology. I sat for my national board exam in June of 2009 and have been a Certified Veterinary Technician since then. I completed my externship at Valley Central Emergency and Referral Center and have also worked with the local emergency service. Though the big hospitals were exceptional with the care they were able to provide, I found my place in the small general practice environment where I have worked for the past five years. I am fortunate to belong to a practice that believes in a family-oriented setting. Because of this, I am afforded opportunity to get to know both the patient and their family! I believe in treating each pet as if they were my own.
Through the years of work, I have adopted quite a few furry family members. I have three Yorkshire Terriers, five cats and one rabbit. Each came with their own set of quirks and story, but that is what makes each unique! Outside of work, I love to travel, especially to places where my dogs can come along for the trip!
I am excited to be part of the Blandon Family Veterinary Practice team and honored that you have chosen us to be part of your furry family member's care!
________________________________________________________________________________________________________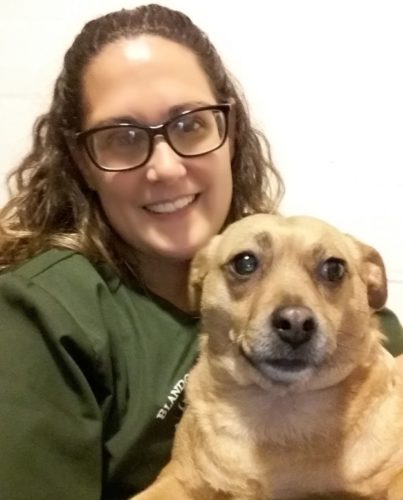 Melissa Cartagena, Office Administrator
Hello!  My name is Melissa Cartagena, I am beyond excited to be on Blandon Family Veterinary Practice's Team.  I am a mother of 4 and 1 fur-baby named Cali.  I enjoy being outside doing activities such as camping, going for walks and spending time with my family.  My love for animals started at a young age so getting to work in a field that I love is extremely gratifying.  I am a graduate of Muhlenberg High School and have lived in and around the area my entire life.
I look forward to getting to know each and every one of the patients and pet parents here at Blandon Family Veterinary Practice.
________________________________________________________________________________________________________

Justine Potts, Receptionist
Hello Everyone! My name is Justine Potts and I am happy to announce I have joined the Blandon Family Veterinary Practice as a full time receptionist! My love for animals started at a young age. Not only did I have pets of my own, but I always loved wildlife just the same. As a child I was always trying to catch something, whether that was toads, salamanders or barn kittens. I guess that I've never grown out of it because at age 25 I still do whenever I get the chance! In my spare time I enjoy camping, hiking, weekends in the mountains and line dancing. I currently have 2 Bloodhounds, Copper and Greta, and 5 cats Lucy, Sylvester, Trixie, Carly, and Norman. I am so happy to be a part of the team here at Blandon Family Veterinary Practice and cannot wait to meet all of you and your furry family!
________________________________________________________________________________________________________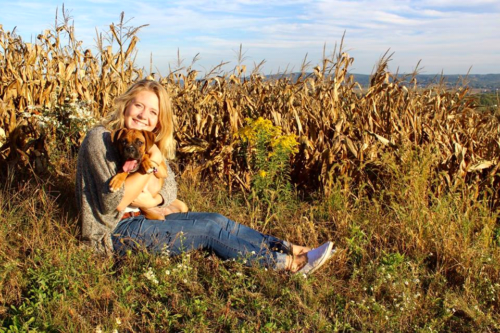 Nicole Cieslinski, Technician Assistant
Hello! My name is Nicole Cieslinski, and it is with great pleasure to be part of the Blandon Family Veterinary Practice as a part time veterinary technician's assistant. Growing up I have always had a passion for working with animals. I am currently attending Kutztown University studying Biology to hopefully afterward continue my studies to become a Veterinarian.  I was born and raised in Scotch Plains, New Jersey from where most of my experience comes. When home in NJ, I work in an animal hospital as well as a kennel. Having worked in such fast paced environments in NJ makes me appreciate the family feel here at Blandon Family Veterinary Practice.
In the past couple years I have brought home almost every furry creature you could imagine and some not so furry. My freshmen year of college I had a hamster named Chewie followed by my Sophomore year rescuing a kitten from outside – finding him a furever home. Now being in my Junior year I have rescued a bunny Fetty Hop and welcomed home a puppy Boxer who plays lovely with my family dog Bella and our family's three turtles. There is always room for more, just leave it to me to find some cute animal who needs a home [my mother especially loves this quality in me even when I bring them home to her ;)]
I am thankful to be part of this team and to have been chosen to help care for your pets!