All of the staff here at the practice are excited to meet you and your four-legged family!  Meet the team below;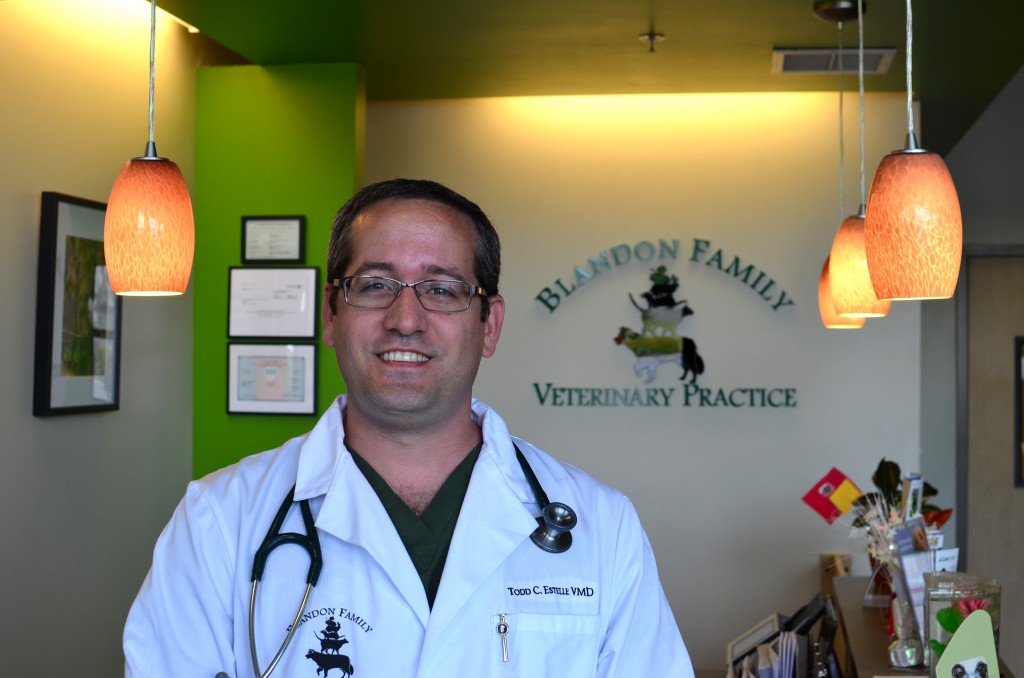 Todd C. Estelle VMD
Hello! My name is Todd C. Estelle VMD. I am the new vet in town!
Our hospital is a full service general practice, able to provide most routine pet wellness care, vaccinations, urgent care/hospitalization, and a wealth of surgical procedures. I practice on most common pets, including: dogs, cats, ferrets, rabbits, guinea pigs, mice, rats, hamsters, and some reptiles.
I'm a 2002 graduate of the University of Pennsylvania School of Veterinary Medicine and have lived in and practiced in the Berks county region for the past 11 years.  One of my utmost goals for the hospital is to be everything you expect and want from your own personal family physician, and to exceed that expectation! I've worked in many veterinary facilities over the years, and have heard from clients all over saying that they're dissatisfied with larger veterinary groups and the impersonal feel they may have. People crave and want a smaller family-like feel to their veterinarian's office, where they and their pets are known by the doctor and staff, and where they will see the same doctor when they come. I've chosen intentionally to keep things small and simple to do exactly that, and to provide you with that personal family practice atmosphere! What drew me into veterinary medicine, and my favorite part of it is the bond you and I form over the years as together we care for your pets.
So, come join us at Blandon Family Veterinary Practice! We can't wait to meet you!
________________________________________________________________________________________________________
Nicole Matlack, CVT, Technician
Hi, everyone! My name is Nicole Matlack, and I am happy to say that I have joined the team at Blandon Family Veterinary Practice as the veterinary technician! I always have felt a special connection with animals and knew from a young age that I wanted to work with them when I was older. I attended Lehigh Carbon Community College and graduated with an Associate's Degree in Veterinary Technology. I sat for my national board exam in June of 2009 and have been a Certified Veterinary Technician since then. I completed my externship at Valley Central Emergency and Referral Center and have also worked with the local emergency service. Though the big hospitals were exceptional with the care they were able to provide, I found my place in the small general practice environment where I have worked for the past five years. I am fortunate to belong to a practice that believes in a family-oriented setting. Because of this, I am afforded opportunity to get to know both the patient and their family! I believe in treating each pet as if they were my own.
Through the years of work, I have adopted quite a few furry family members. I have three Yorkshire Terriers, five cats and one rabbit. Each came with their own set of quirks and story, but that is what makes each unique! Outside of work, I love to travel, especially to places where my dogs can come along for the trip!
I am excited to be part of the Blandon Family Veterinary Practice team and honored that you have chosen us to be part of your furry family member's care!
________________________________________________________________________________________________________