All of the staff here at the practice are excited to meet you and your four-legged family!  Meet the team below;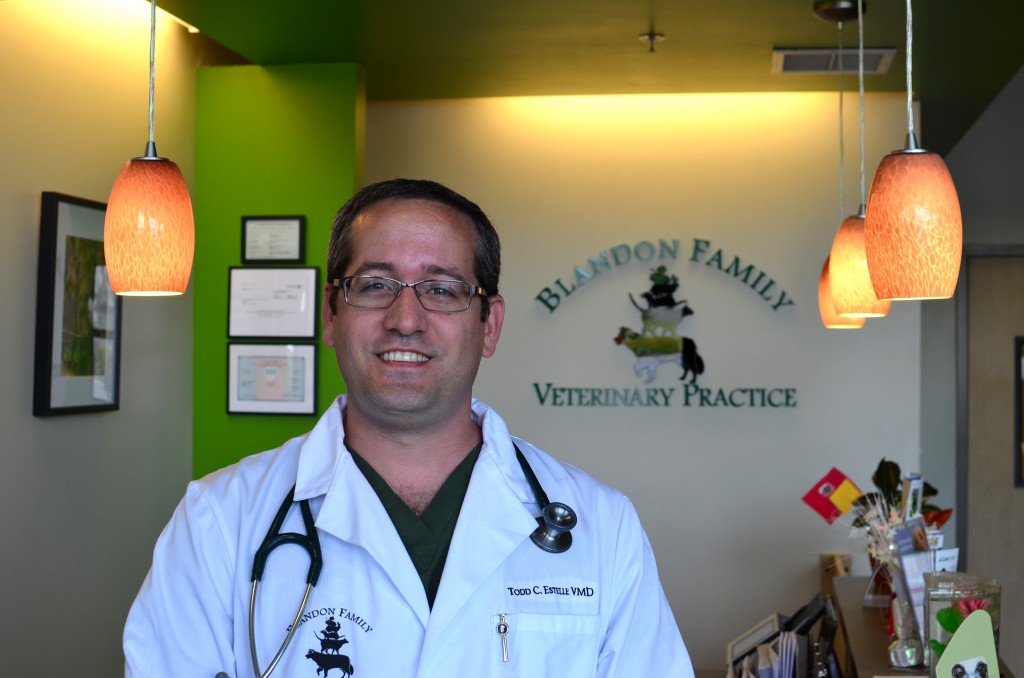 Todd C. Estelle VMD
Hello! My name is Todd C. Estelle VMD. I am the new vet in town!
Our hospital is a full service general practice, able to provide most routine pet wellness care, vaccinations, urgent care/hospitalization, and a wealth of surgical procedures. I practice on most common pets, including: dogs, cats, ferrets, rabbits, guinea pigs, mice, rats, hamsters, and some reptiles.
I'm a 2002 graduate of the University of Pennsylvania School of Veterinary Medicine and have lived in and practiced in the Berks county region for the past 11 years.  One of my utmost goals for the hospital is to be everything you expect and want from your own personal family physician, and to exceed that expectation! I've worked in many veterinary facilities over the years, and have heard from clients all over saying that they're dissatisfied with larger veterinary groups and the impersonal feel they may have. People crave and want a smaller family-like feel to their veterinarian's office, where they and their pets are known by the doctor and staff, and where they will see the same doctor when they come. I've chosen intentionally to keep things small and simple to do exactly that, and to provide you with that personal family practice atmosphere! What drew me into veterinary medicine, and my favorite part of it is the bond you and I form over the years as together we care for your pets.
So, come join us at Blandon Family Veterinary Practice! We can't wait to meet you!
________________________________________________________________________________________________________

Steve Myers, Practice Manager 
Hi there, my name is Steven Myers and I'm glad to say that I work with Dr. Estelle at Blandon Family Veterinary as Practice Manager! Having worked with Dr. Estelle on BFVP since February of 2012, I can honestly say that it is amazing to be a part of this practice, both as a manager and as a pet owner myself. I am very excited for all the opportunities and experiences still in store for us at BFVP!
I graduated from Kutztown University with a Bachelor's in Business Management in December of 2010 while owning and running Steve Myers Guitar, a private music lesson studio. After spending a year in the retail industry as an assistant manager, I discovered that my true passion lies with small business and I was blessed with the opportunity to work with Dr. Estelle on BFVP. His vision of a family-oriented practice speaks volumes about his quality of care, both towards patients and owners, and his philosophy toward business practices makes me believe this practice will be more than just the newest veterinary practice in town, it will be the best!
We are excited for all the new beginnings here at Blandon Family Veterinary Practice and we look forward to meeting your family as you become part of ours!
________________________________________________________________________________________________________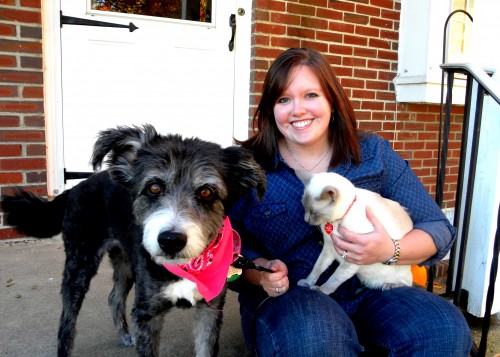 Lindsey Hart, Receptionist
Hi there! My name is Lindsey Hart, and I'm very excited to be the smiling face that you'll see when you visit the reception area at Blandon Family Veterinary Practice! I am truly blessed to have the opportunity to be a part of this wonderful new family-oriented practice with Dr. Estelle, Steve, & the rest of the staff. With a Life Science degree from Penn State Berks, along with experience in both the veterinary field and the realm of customer service, I hope to convey the welcoming and compassionate atmosphere that I know all of us at BFVP will express to you, and especially the four legged members of your family! My love for being around and taking care of animals has always been a passion of mine. I love to help in any way I can, so it's been great to be working up at the reception area getting to know our clients and patients, and it is also wonderful to be able to help Dr. Estelle or the Technician with appointments and surgeries when needed!
My loving husband, Mike, and I have two furry family members who we love dearly; a playful 15 year old Border Collie Mix named Lucky, and a spunky 5 year old Siamese named Jinx.  One of our favorite places is Disney World, and Walt himself said it best. "The most important thing is family." I hope to help your four-legged family members feel like a part of our family here at BFVP!
Mike & I are expecting our first child, Jacob, in late August 2015.
I am eager to meet and get to know your family as Blandon Family Veterinary Practice embarks on this amazing new journey!
________________________________________________________________________________________________________
Nicole Matlack, CVT, Technician
Hi, everyone! My name is Nicole Matlack, and I am happy to say that I have joined the team at Blandon Family Veterinary Practice as the veterinary technician! I always have felt a special connection with animals and knew from a young age that I wanted to work with them when I was older. I attended Lehigh Carbon Community College and graduated with an Associate's Degree in Veterinary Technology. I sat for my national board exam in June of 2009 and have been a Certified Veterinary Technician since then. I completed my externship at Valley Central Emergency and Referral Center and have also worked with the local emergency service. Though the big hospitals were exceptional with the care they were able to provide, I found my place in the small general practice environment where I have worked for the past five years. I am fortunate to belong to a practice that believes in a family-oriented setting. Because of this, I am afforded opportunity to get to know both the patient and their family! I believe in treating each pet as if they were my own.
Through the years of work, I have adopted quite a few furry family members. I have three Yorkshire Terriers, five cats and one rabbit. Each came with their own set of quirks and story, but that is what makes each unique! Outside of work, I love to travel, especially to places where my dogs can come along for the trip!
I am excited to be part of the Blandon Family Veterinary Practice team and honored that you have chosen us to be part of your furry family member's care!
________________________________________________________________________________________________________
Victoria Ehrhart, Receptionist
Hello, my name is Victoria Ehrhart, but everyone calls me Torrie. I am the newest addition to the practice staff here, but I am very excited for this opportunity. I graduated high school in 2013 and have been gaining experience in various fields since.
Ever since I was a little girl, everyone said I should be a vet; my passion for animals has always been very apparent. I have been involved more in the large animal side of things than the small animal. I have a passion for farming and agriculture and have always been involved in breeding and raising my own pigs, goats, chickens, and bottle feeding calves. I currently own a crazy 8 year-old Doberman named Delilah as well as a handful of pigs.